Meet Dr. Kurt Adams
A Chiropractor That Helps Anchorage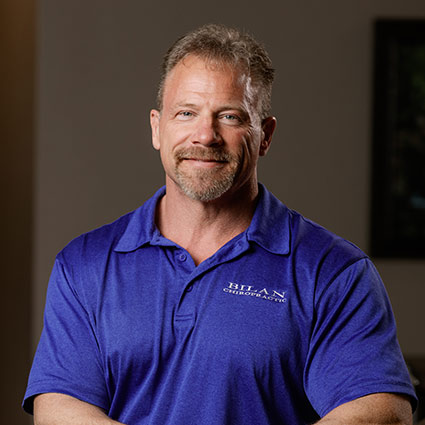 In 1996, Dr. Adams graduated in the top 10 percent of his class from Palmer College of Chiropractic, the founding College of Chiropractic. He pursued his undergraduate studies at Colorado State University with a Bachelor of Science Degree in Exercise and Sports Science, with a concentration in Sports Medicine.
Dr. Adams is a licensed Chiropractor and has practiced in Alaska for over 25 years. He is certified by the National Board of Chiropractic Examiners and is also Board certified in Physiotherapy.
Professional Associations
Dr. Adams is a member of the American Chiropractic Association and the Alaska Chiropractic Society and has been recognized in Outstanding Young Men of America. As a specialist in the treatment of the spinal column, Dr. Adams is particularly interested in the treatment of sports-related injuries to the spine, shoulders, arms, legs, and hips.
Expert in Motor Vehicle Injuries
Dr. Adams also specializes in injuries caused by a motor vehicle crash. He holds an Advanced Certification in Whiplash Traumatology from the Spine Research Institute of San Diego.
Dr. Adam's commitment to excellence extends to his participation in the seminar series offered by the Spine Research Institute, where he continually hones his skills and knowledge in managing spinal trauma and ensuring optimal recovery. If you have been in an accident, he is your expert. "You are in good hands with him by your side"
Chiropractic Qualifications You Can Trust
Dr. Adams has a personal and professional experience with disc herniation, having herniated a cervical disc himself while playing rugby. Active in sports his entire life, Dr. Adams has engaged competitively in football, rugby, wrestling, track, and body building. His appreciation of the outdoor lifestyle, including fishing, hunting, and mountain biking, has drawn him to Alaska.
His passion for sports and his personal experience converge seamlessly at Bilan Chiropractic, where he employs specialized techniques tailored to athletes, harnessing the body's innate capacity to heal and perform at its peak. Dr. Adams's holistic approach, informed by his outdoor escapades in Alaska's challenging landscapes, encapsulates the essence of sports chiropractic—uniting his love for active living with his commitment to fostering athletes' well-being.
Outside of the Practice
Family life is central to Dr. Adams' life. He is married to Dr. Tawnia Adams, a nationally renowned Chiropractic Radiologist. Together Drs. Kurt and Tawnia Adams strive to help each other achieve excellence in Chiropractic and make a positive contribution to their profession and to this community. Both Dr. Adams and his wife Tawnia are former competitive bodybuilders and continue to be active in the fitness lifestyle. They have three wonderful children: Greyson – an Engineer, Hudson – a professional musician, and Carson – an aesthetician.
Book Today
Contact Bilan Chiropractic now to schedule an appointment with Dr. Kurt Adams-he can't wait to welcome you into the practice!

Dr. Kurt Adams | (907) 569-1123