Meet Dr. Daryl Chalifour, Owner
Family, Faith and Health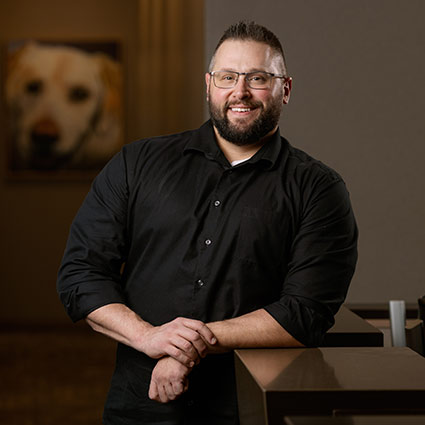 Dr. Chalifour was born and raised in South Anchorage with a strong love of family, faith and the outdoors. He and his wife Emily have been married for almost 20 years (that's a lot of years!) and are the proud parents of three amazing children, Isla, Thad, and Essa, all of whom are avid local athletes and have been adjusted since birth. Dr. Daryl Chalifour, or "Dr. Daryl" as we like to call him, is proud to be an Anchorage chiropractor since 2009.
"I always knew I wanted to help people and after seeing what chiropractic did for my family, I knew that it was my calling. The nervous system is the control center of the body and should be of the utmost importance when optimizing health and correcting the cause of pain and disease through chiropractic care."
A Graduate of the Founding College
Dr. Daryl completed his undergraduate at the University of Alaska Anchorage, where he also received his training in myotherapy and rehabilitation. He also completed additional training in the fields of sports injuries, soft tissue therapy, and extremity adjusting.
Before completing his chiropractic education, Dr. Daryl worked as a myotherapist and rehabilitation specialist in the Anchorage area and has seen the miracles that chiropractic care can make in the lives of every patient!
Attending Palmer College of Chiropractic, Dr. Daryl graduated with honors and was nominated for the clinical excellence award for his exceptional patient care in the Palmer clinics. He has also authored a study on low back pain, which has been presented to the Journal of
Manipulative and Physiological Therapeutics.
An Active Life of Wellness
Dr. Daryl has been involved in fitness and strength training both as a coach and competitor, working with world class athletes to improve their performance and keep them injury free. He is a former state powerlifting champion and competitive strongman as well as completed certification as a Certified Chiropractic Sports Physician (CCSP), and Certified Strength and Conditioning Specialist (CSCS).
This background forms a robust foundation for helping athletes recover and maintain their elite level of performance. His hands-on experience in safeguarding athletes from injuries seamlessly intersects with his chiropractic expertise, enabling him to offer a comprehensive approach that optimizes athletes' well-being and empowers them to excel in their chosen sports.
Start Today
He can't wait to welcome you to the practice. If you're ready to get started, contact us today at (907) 569-1123 to book your appointment.

Dr. Daryl Chalifour | (907) 569-1123